For the past six months or so, I have been obsessed with EJ Bellocq's Storyville Portraits of prostitutes in New Orleans. Specifically, this lovely woman: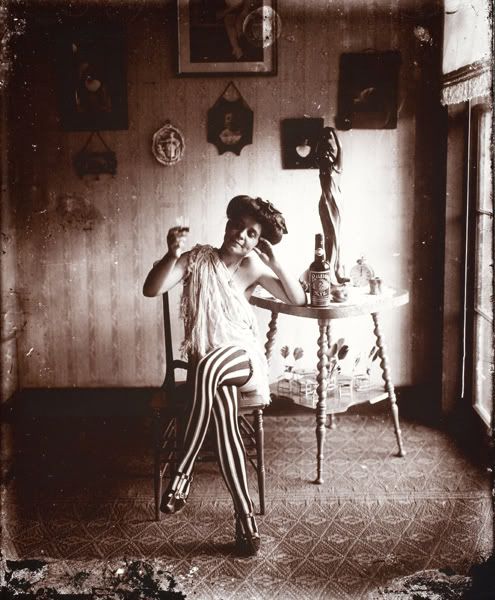 I love her casual pose, her fabulous hair, her floaty, feathery dress, her t-strap heels. But most of all, I LOVE her striped stockings. They are fabulously old-timey, whorish and circus-like. A similar look was also seen on one of the prostitutes on
Deadwood
. I want, I need, I crave striped stockings. Is it odd to fashion your sartorial choices based on inspiration from long-gone and fictional ladies of ill repute? I don't care, I want to be ill-reputed myself!
Of course, when I saw this image at
the Urban Collection
, I fell in love all over again and went, once again, on a quest for the perfect striped stockings.
I went to the fabulous
sockdreams.com
and found a few choices. I think these below might be the best for what I'm going for, although I would prefer them a little more opaque than sheer.
Now if only I could find the perfect vintage-y, lacey, flowy dress and some kicking t-straps, I'd be quite the lady of the night.